Here you can get to know my beloved instruments, guitars, amps and effect devices:
This is my lovely Furch – Durango in a dreadnought form. Furch is a company based in  the czech republic.
The mainsetup of my Furch, I call her "Lynn", is very simple. There are no special details like crazy bindings, inlays or other. The result is a very bassy sound coupled with nice overtones. To get her going well on a pa, I chose AER AK 15+ as the pickup system.
Check Furch out!
There are different opinions about those AER-amps, but I enjoy them a lot. This model is a tiny one called AER – Alpha and iI guess it is the cheapest one as well. By coupling them on this amp it produced great tones and I got stuck into it. Go visit AER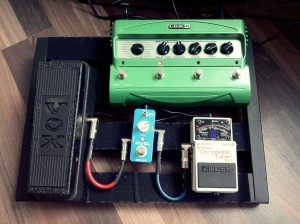 I'm not really into effects but I like having more sound options. For my pedalboard I chose the Line 6 – DL 4 (multi effect delay system with a short loop progression), a Vox Wah Wah 845 (!), a typical Boss – chromatic tuner (!) and a crazy tiny box named Mooer – pitch box (scary but admirable //#doesthiswork?// sounding pitch effects). Playing harmonics over it sounds so weird!